I discovered the Huffington Post several months ago and love their daily "GOOD NEWS" that I receive in my inbox daily.
I just had to share this amazing true story.
THE BEST THING MONEY CAN BUY 
I am not your stereotypical pitbull owner. I'm neither a Silverlake hipster trying to look cool nor a South L.A. thug trying to look tough.
I am also not a rich La Jolla housewife with a 30-year-old face on a 50-year-old neck and an ailing golden retriever (not that there's anything wrong with that.)
I'm a 40something unmarried woman in Pasadena, Calif. Yet I am about to drop $16,000 on my one-time pound puppy.
Let me explain.
Kaya, a freckly orange-and-white pit, was my ex-boyfriend's dog. He picked her up at an Oregon shelter, complete with mange and a MRSA infection. I had just gotten a puppy as well (a Chesapeake Bay retriever mix), and was not thrilled. I thought his puppy would kill my puppy.
A few months later, I flew to Oregon, where the boyfriend was living, and we drove down to L.A. in a U-Haul with Kaya sitting on the seat in-between us. She farted all the way to Calistoga, thanks to a giant beef stick he'd given her at the start of our trip.
When Kaya and my Davy Jones met, they trotted off to play. My wariness about her breed dissipated.
A recent college grad, the ex moved in with his parents and began looking for work.
A photojournalist, he started getting assignments in other states, and Kaya began spending more time at my house. He originally tried leaving her with his parents (where, after all, she lived). But after 24 hours of Kaya hanging with the 'rents, I received a panicked call from him begging me to get her: "They can't handle her."
I dashed to Santa Monica on my lunch hour. I'll never forget finding Kaya locked in a crate alone in a dark hallway upstairs while the parents' two dogs had the run of the house and yard.
I sprung her, dropped her at my house and jetted back to work.
When I got home that night, she was so excited, she jumped up and broke one of my front teeth with her skull.
It was a bonding moment.
Kaya isn't always easy. Until I learned to put all food away, she was a counter surfer who once ate three Tupperwares full of chocolate chip cookies (and a bag of chips).
Another time she ate six raw chicken skewers, including the skewers.
But at this point I'd grown accustomed to her antics, and her face.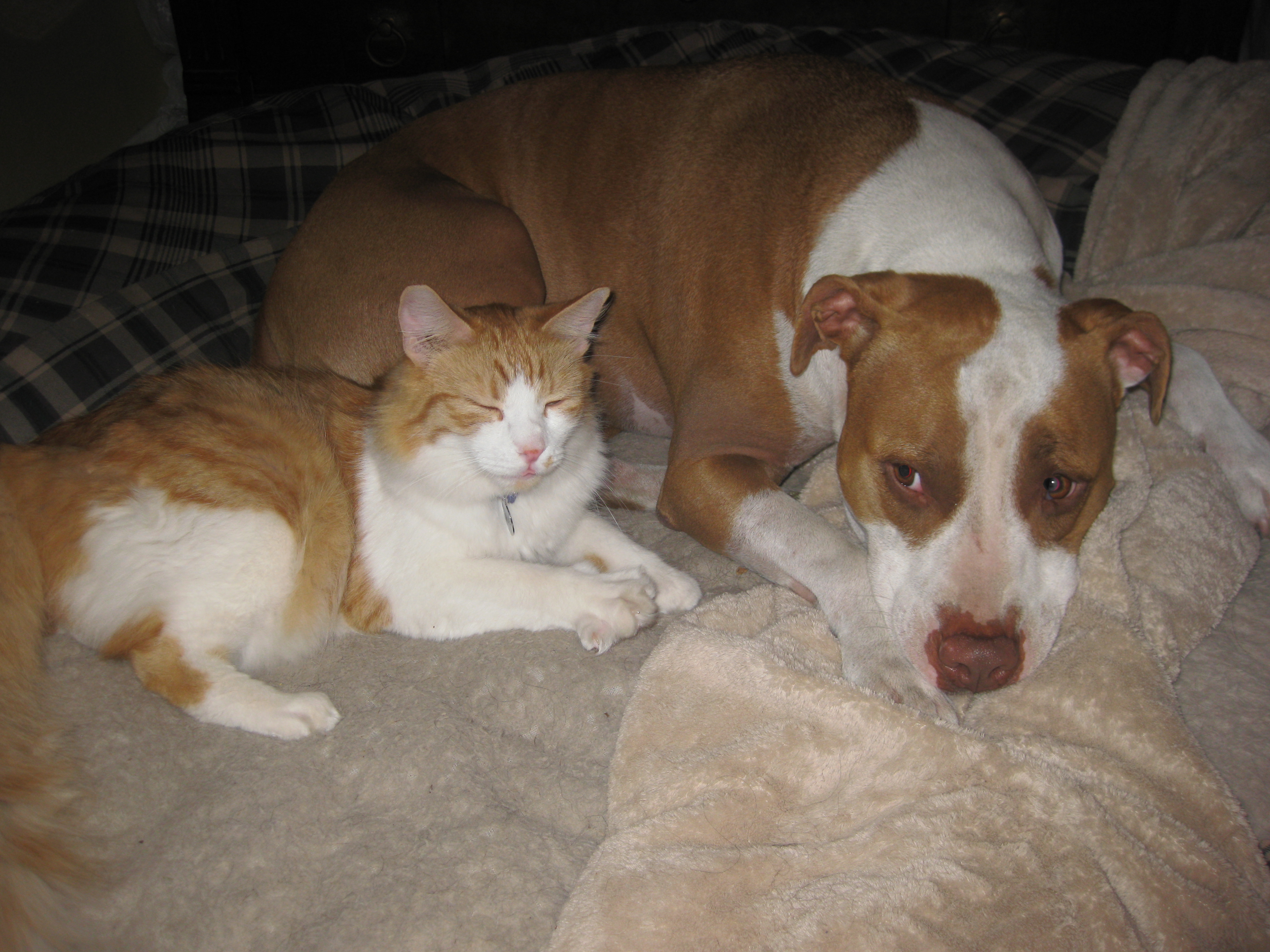 A year later the boyfriend and I broke up. He'd been offered a job in another state and said he wouldn't have time for Kaya. He told me his mother "knew a lesbian in the Palisades" who would take her. Nothing against lesbians or the Palisades, but that was out of the question.
Another U-Haul took the now ex-boyfriend away, and Kaya and I were left sitting on the couch looking at each other: "How did this happen?"
Fast forward three years, and Kaya, now 5, starts barking funny. Then she starts breathing noisily at night.
My vet puts a probe down her throat and sees "something funny." The needle biopsy comes back "inflammation."
But Kaya's breathing gets more labored, so I take her to a specialist for a surgical biopsy. He says, "It doesn't look good." For 24 hours I think Kaya's going to die. I make her a cheeseburger and cry.
Then the pathology report comes back: Kaya has an extremely rare but benign tumor called an oncocytoma.
We end up at a place in San Diego called Veterinary Specialty Hospital for a consultation. I schedule surgery — and start a GoFundMe campaign. I've already spent $2,400, and surgery is going to cost another $5,400.
I learned a lot about friendship and finance. My "bestie" explained that she couldn't contribute because the upkeep on her four homes was so expensive. A guy at my office whom I barely know stopped by and wordlessly handed me a roll of twenties — twice. My hairdresser began giving me free haircuts.
Kaya underwent surgery May 30. The tumor was the size of a golf ball, but Dr. Fred Pike got the whole thing and preserved some vocal cord function.
She was back to harassing Davy in no time.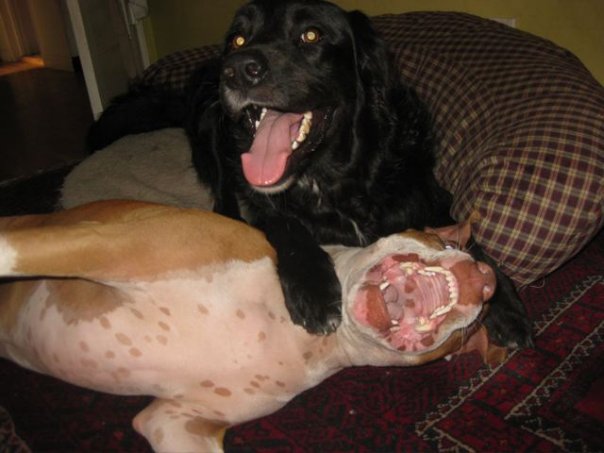 When I called VSH for Kaya's biopsy results, Dr. Pike immediately got on the phone. He asked how she was doing. I wondered why he wasn't getting to the point.
Finally, he said, "So. The biopsy results."
It turned out that Kaya's tumor was a rarity called a rhabdomyosarcoma. It was malignant. Dr. Pike suggested I talk to his radiation oncologist colleague, Dr. Blaise Burke.
That was a week ago. Since then I've consulted with Dr. Burke and two other radiation oncologists, an oncologist and a holistic vet. All agree: The best chance Kaya has of long-term survival is radiation. Anything else would just be buying her a year or two. With radiation, her chances of living three-plus years are at least 75 percent.
As soon as I learned the cost of radiation would be around $9,000, I threw up my hands and took down Kaya's donation site. I have home equity, I have an IRA, and I'm sick of asking people for money.
I haven't slept much since receiving the cancer news. I sit on the floor by Kaya's bed with my hand on her side, so relieved to hear her easy breathing. I think about spending another $9,000 on radiation. I know many people would say, "You would spend $16,000 on a dog?"
I think about the cancer coming back, her breathing becoming more labored, and Kaya slowly suffocating until I have to put her down.
I think of the cute puppy sitting up like a little person between my ex and me on the long drive from Oregon to California, occasionally reaching out and poking me with her paw.
I think of how Kaya sits by my bed and whimpers until I let her under the comforter, and how we then sleep back to back (and usually, eventually, paws to face).
I think about the first time she tried competitive dock-jumping. She inched lower and lower off the edge of the dock until finally she landed in the pool. She raced back up the ramp, barking wildly, ran back down the dock and jumped into the pool again and again, swimming around with the Newfies and Labs and Chessies, looking incredibly out of place but having a blast.
I think about how she playfully nibbles on my cat like she's eating corn on the cob.
I think about how stoic she was after her surgery, and how physically strong she is.
I think about things like love, attachment, joie de vivre and what money can buy.
I can buy my dog's life. There's nothing I'd rather spend it on.